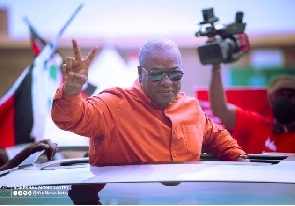 Former President John Dramani Mahama has announced a plan to devolve the work of the National Democratic Congress (NDC) Party School to the various regions to train and re-orient branch and constituency executives on the ideals and history of the party.
Speaking at a campaign event in Suhum in the Eastern Region on Wednesday, Mr. Mahama who is expected to lead his party to the 2024 presidential and parliamentary elections said, "it is not enough to say you are an NDC executive. You must understand what the party stands for."

Mr. Mahama says because the NDC's 2024 campaign will be anchored around the party's branch executives across the country, it will require that they are not only resourced to carry out an effective campaign but also equipped with continuous training.

"We will therefore send all branch and constituency executives to the Party school to learn about the party, our ideology, its origins, Jerry Rawlings and about the Revolution, and the party constitution."
According to Mr. Mahama, the plan is to decentralize the operations of the Party School into the regions, adding that the training will also focus on the functions of the executives, the NDC's policies, campaigning, voter mobilization and canvassing among others.

The former president is on a three-day campaign tour of the Eastern Region. The 'Building the Ghana we want Together' tour is visiting 31 out of the 33 constituencies of the region in this phase of the campaign.

He has visited 7 other regions and is expected to receive an overwhelming endorsement from the party's delegates to the May 13, 2023, presidential primaries.