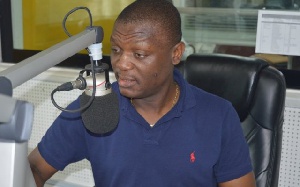 The governing National Democratic Congress (NDC) has refuted allegations leveled against it by the opposition New Patriotic Party (NPP) that it keeps breaking its promises to Ghanaians and that another four years for President John Mahama will spell doom for the country.
At a news conference dubbed Promises Made, Promises Broken, Policy Advisor for the NPP's 2016 campaign, Boakye Agyarko, cautioned Ghanaians against falling for what he described as the NDC's "phantom promises" and so-called achievements.

But speaking on Inside Politics on Class 91.3FM on Monday September 19, the National Organiser of the NDC, Mr Kofi Adams said government puts Ghanaians first in all its policies.

"In talking about putting people first, you must run your economy and distribute things such that everybody matters and you matter.
That is why take, for example, education: secondary education, it doesn't matter where the community is. Look at the type of schools President Mahama is building today in communities that never thought that secondary education will be close to them.

"I entered into some of these new schools that President Mahama has built and the equipment in their labs, I didn't see that when I was doing my sciences at the university. … [We are bringing] education closer to them, therefore, putting people first so that your child, the child that is born in the village is not disadvantaged because he is born far away from the centre of education".