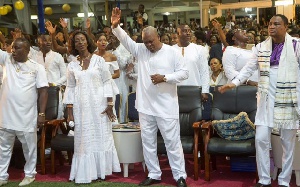 God has already settled on the governing National Democratic Congress (NDC) as winner of the December polls, President John Mahama has said.
Speaking at Kyebi in the Eastern Region, where he is on a five-day campaign tour, Mr Mahama, who is seeking a second and final term in office said God has already ordained the NDC's victory.

"As I said yesterday, God has already decided who will win the 2016 polls as we speak."

"He has already decided the winner. And I know by God's grace, by the grace of Jesus, Insha Allah, In Sha Allah, 7th December, 2016, NDC will win the elections."
Meanwhile, Mr Mahama has said his government's worst corruption index performance is far better than the best anti-corruption record of the main opposition New Patriotic Party (NPP) during the eight-year period of the Kufuor administration.

"…When it comes to fighting corruption, in 2012 we were the 64th least corrupt country in the world. In 2015, we were 56th, i.e. 7th in Africa and our worst record over the years remains superior to the best record during the tenure of the NPP," Mr Mahama wrote on his website.