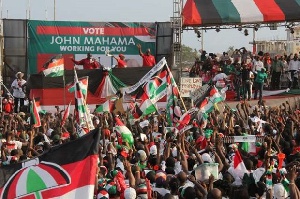 The governing National Democratic Congress (NDC) has dismissed 23 members of the party who are contesting as independent parliamentary candidates in the December 7 polls.
According to the party, such persons are in breach of articles 8( d,f); 45( a,b,c &e) and 46(10) of the party's constitution.

"The affected persons by their conduct and on their own volition have ceased to be members of the party" the NDC said in a press statement signed by its General Secretary Johnson Asiedu Nketia.

The National Executive Committee (NEC) of the party has, therefore, directed that the affected persons be "barred from the use of the party's paraphernalia, or the use of names of key party officials, including the party's presidential candidate in their campaigns or political activities, return all party property( including vehicles) in their possession."

The NDC further said pursuant to articles 45 and 46 of the party's constitution, executive members of the party who endorsed the nomination forms of independent parliamentary candidates or who are campaigning for independent candidates have by their actions and on their own volition also ceased to be members of the party.

Confirming the dismissal to Chief Jerry Forson on Accra100.5FM's breakfast show Ghana Yensom on Tuesday, 1 November, Deputy General Secretary Koku Anyidoho said: "Once you take that decision [to go independent] it comes with a cost, and so it is true, once you've gone and filed independent, you no longer belong to the party."

Below is the full list of sacked members of the NDC who are running as independent parliamentary candidates:

UPPER WEST
1. Samson Abu (sitting MP) - Lawra

2. Pharauk Bandanaa - Wa West.

CENTRAL

1. Anthony Cobinna - Cape Coast South

NORTHERN

1. Alhassan Bunglung - Savelugu.

2.Joseph Amuzu: Saboba(already resigned).
3.Namburr Berrick - Bunkpurugu.

WESTERN

1. Harrold Cobinna (sitting MP) - Akontonbra.

2. John Amenlemah - Jomoro

VOLTA

1. Elvis Ativoe - Agotime Ziope

2. Albert Zigah - Ketu South
3. Jim Morti - Ketu South

4. Wogbemase Kpikpitse - North Dayi

5. Christopher Eleblu - North Tongu

6. Evans Gadeto Djikunu - Akatsi South.

7. Edwin Tukpeyi - Ho Central.

8. Dr David Kofil Ahorse - Buem.

9. Joseph Ofor (sitting MP) - Akan.
10. Timothy Udijol - Nkwanta North.

11. Emmanuel Jalulah - Karachi West.

UPPER EAST

1. Peter Yakubu Pandam - Garu.

2. Dr. Francis Asaana - Tempane

3. Simon Akuye - Pusiga.

4. Saeed Ayuba - Bawku Central