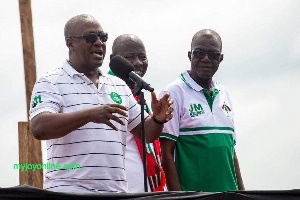 President John Mahama has declared the governing National Democratic Congress "will do everything to win" parliamentary seats in 13 constituencies in the Ashanti region.
According to Mr. Mahama, his declaration is based on opinion polls conducted by the party in the region.

Mahama believes voters in the Ashanti region will reward the NDC at the polls given the amount of developments the administration has sent to the region. The Ashanti region is regarded as the stronghold of the opposition New Patriotic Party (NPP).

However, addressing a durbar at Apagya in the New Edubiase constituency on the first day of his tour of the Ashanti region, President Mahama said the 1 million votes target of the NDC will materialise.

"Someone will say Ashanti region is the stronghold of the NPP, but at this stage of our politics, voters in Ashanti will vote based on performance. I believe the amount of work we've done will reflect in the votes in the Ashanti region," the NDC flagbearer stated.

He added: "This is why we are targeting 1 million votes here. 1 million votes, we will get here in Ashanti region."
Mahama declared: "As I speak, we have four constituencies in Ashanti region. We have done opinion polls and surveys. I can tell you that we can get nine more constituencies in addition. So this year, we are targeting 13 constituencies in Ashanti. By God's grace we will do everything to win these constituencies."

Mahama believes the Presidential election is already in the bag for the NDC. He, however, tasked supporters to ensure the party widens the gap with the NPP to avoid any litigation at the courts.

He predicted between 54-57%.

"As for the Presidential, we are done. We've already won by the grace of God," Mahama, who is seeking a second term in office, said.

The president is on a four-day tour of the Ashanti region.