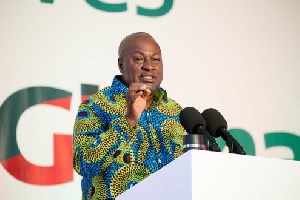 President John Mahama has urged residents of the Eastern region to vote against the opposition New Patriotic Party [NPP] in the December polls.
According to the President, the NPP neglected that region during their 8 year term.

President Mahama noted that the Kufuor administration did not put up a single new secondary school or hospital in the region even though his party enjoyed massive support from residents of the Eastern region.

Addressing a rally at Asokore in the New Juaben North Constituency on the final day of his tour of the region, President Mahama challenged the NPP to provide evidence of their investments in education and health infrastructure in the region if any.
"8 years, 8 years, not one single new secondary school, not one in the Eastern region. 8 years, not one. I've challenged them to show me one new secondary school within 8 years from 2000 to 2008 that they put up in the Eastern region, not one. Hospital, not one. For 8 years, 2000 to 2008 even one hospital they couldn't build in the Eastern region."

He argued that the failure of the NPP to develop the region in that sector deprived nurses and teachers employment opportunities.

"These infrastructural projects we are executing are not just for children to get schools to attend or residents to get quality healthcare, they are also meant to create jobs. The 8 years that the NPP did not put a single school or hospital, they denied trained teachers and nurses employment as well."