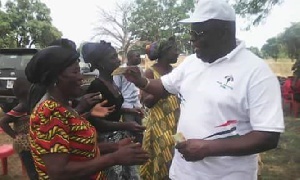 The Minister of State at the Presidency and Member of Parliament (MP) for Navrongo Central Mark Owen Woyongo has been accused by members of the New Patriotic Party (NPP) for alleged vote buying.
Supporters of the NPP claim the former Interior Minister as part of a scheme to buy his way to victory, has been spotted on several platforms allegedly distributing money amidst display of opulence.

A member of the party's campaign Justin Abugah, disclosed that the minister is aware he can no longer win the seat the reason he has resorted to the latest tactic to win the support of voters; stating that it will fall flat on the face.

"You can share as much as 5 million per head…. We will spend it and will never vote corruption, 'dumsor' or what I call student slavery and exploitation, in all incompetence ever in the history of Ghana. Dead goats indeed….. Vote change vote NPP", he stated.

The minister who launched his campaign last month, promised to convincingly beat his rival and former minister Joseph Kofi Adda who is standing on the ticket of the New Patriotic Party (NPP) at the December 7 polls.
Mr Joseph Kofi Adda lost the Navrongo Central seat to the Mark Woyongo in 2008 and 2012 in what many pundits described as one of fiercest contests in the Upper East region.

Mr Wayongo who is also the National Democratic Congress (NDC) parliamentary candidate for the area at his campaign launch, promised to stretch the vote margin between him and his arch rival by over 10,000 at the polls.

He believes developmental projects executed in the last four years under the John Dramani and himself for the benefit of people of the constituency is enough to earn him that number of votes to beat his closest contender.

Mark Woyongo goes to the polls with Kofi Adda of the New Patriotic Party, Susana Ayoriba Kubirizegah of the Progressive People's Party, Pwawori Joseph Wegare of the People's National Convention.