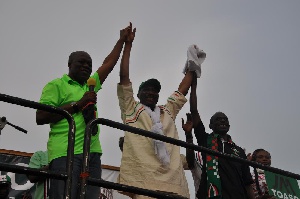 Mon, 3 Oct 2016 Source: Maxwell Okamafo Addo
Vice President Paa Kwesi Amissah-Arthur has asked the supporters of the National Democratic Congress (NDC) at Asawase in the Ashanti Region to ignore the accusations coming from the camp of the opposition New Patriotic Party (NPP) - and rather focus on what will win victory for the NDC come December 7.
Mr. Amissah-Arthur urged the electorates to be vigilant and police the polls to avoid the results from being rigged.

He said, whilst the NDC has launched its campaign and manifesto and poised for victory - the NPP was only interested in accusations.

The NPP which has not launched its campaign and manifesto is rather accusing the NDC of stealing their manifesto and peddling untruth. This among other reasons made the Vice President called on party supporters to police the polls and be vigilant on Election day to win them a second term of office.

"We must police the polls, we must make sure we are vigilant and that everything is done according to the rules," he said.

He made the statement when he addressed hundreds of party supporters in the Asawase constituency of the Ashanti Region who defied the persistent heavy downpour in the area to welcome him to grace the launch of the NDCs Member of Parliament for the area Hon Mohammed Muntaka Mubarak's Campaign Launch yesterday.
Vice President Kwesi Amissah-Arthur admonished party supporters to continue to be focus, determined, so as to lead the party into victory come December 7.

He also called on party supporters to be wary of the NPP because of their attitude of pulling surprises.

According to him, an election is won or lost on the day of the election, therefore the supporters should ensure that all the campaigning activities of the party across the country be crowned with a win in the upcoming elections.

Mr. Amissah-Arthur called on the NDC party supporters to ignore the accusations of the NPP and urged them to use their energies in ensuring a resounding victory for President John Mahama for continuity in the December 2016 elections.

He said under President John Dramani Mahama the National Democratic Congress (NDC) has officially launched the campaign for the 2016 election at the Cape Coast Sports Stadium in the Central region on Sunday, August 14, 2016.
"Also under President John Dramani Mahama the National Democratic Congress has launched it manifesto ahead of the 2016 general elections in Sunyani which the NPP hasn't," he noted.

The New Patriotic Party (NPP) says the manifesto highlight by the governing National Democratic Congress (NDC) was replete with its ideas. And that the NDC led by its General Secretary Johnson Asiedu Nketia has stolen their Manifesto.

He used the occasion to call on the electorates to give President Mahama and the MP for Asawase Hon Mohammed Muntaka Mubarak a massive win once again in order for the NDC to win the elections so that majority of the development projects can continue.

Other speakers at the launch included Greater Accra Regional Minister – Nii Laryea Afotey Agbo, y. Ashanti Regional Minister , Mr. John Alexander Ackon, Deputy Minister for Employment and Labour Relations, and Member of Parliament (MP) for Akwatia Constituency, Hon. Baba Jamal and the General Secretary of the governing National Democratic Congress Johnson Asiedu Nketia, Mr. Yaw Owusu Obimpeh, Ashanti Regional Chairman of the National Democratic Congress (NDC),amongst others
Source: Maxwell Okamafo Addo