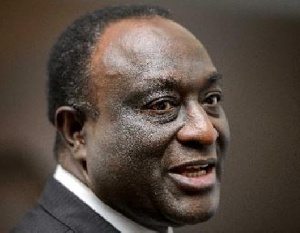 Three-time flagbearer aspirant of the New Patriotic Party (NPP), Alan John Kwadwo Kyerematen, has called on the party's rank and file to rally behind Nana Addo Dankwa Akufo-Addo to reclaim power for the party in 2016.
He added that Ghanaians will not forgive the NPP if they allow internal wrangling to cause a defeat in 2016.

The former minister of state was speaking at the Sunyani Polytechnic, where the 'Rise and Build Tour' of Nana Addo went to on Monday.

The party's protracted internal wrangling is perceived to be steeped in rivalry between the current leader, Nana Addo, and Mr Kyerematen.

"Nana Addo and I are brothers so stop putting us asunder," the former ambassador to the United States emphasized.
"We have a party to serve and not individuals and as a matter of fact, NPP is bigger than any individual in the party, so let us work as a united force to win power in 2016."

He said the party must work together in order to win next year's elections.

"Nana Akufo-Addo and I are not bigger than the NPP; we need to build a strong party to be able to win the elections otherwise Ghanaians will never forgive the NPP if the internal wrangling and factionalism in the party cause another defeat...we can't afford to disappoint them, however, Nana Addo cannot do it alone unless we all support in unity."