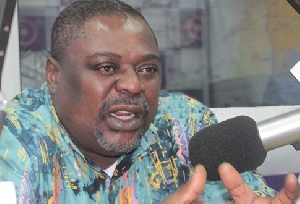 Thu, 7 Jan 2016 Source: peacefmonline
Deputy General Secretary of the ruling National Democratic Congress (NDC), Koku Anyidoho says the decision by the 5 Member Panel to maintain the current voters' register for the 2016 election does not come to him by surprise.
According to him, the opposition New Patriotic Party (NPP) didn't make any logical sense to warrant their call for a new voters' register.

The NPP at a press conference addressed by Dr. Mahamudu Bawumia last year presented a report that over 70,000 Togolese are found on Ghana's voters' register and thus, this finding constituted only 10 percent of the work in progress.

As part of the opposition NPP's filed case at the Electoral Commission to demand for a new voters' register, the party stated that some photos of the supposed Ghanaians on the register were scanned, making the register not credible to use for the 2016 election.

But in the 16 recommendations of the 5 Member Committee presented to the Electoral Commission, the committee among other things said it "finds the arguments for a new register unconvincing and, therefore, does not recommend the replacement of the current voters' register."

On the heels on this recommendation by the committee, Koku Anyidoho on Okay Fm's Ade Akye Abia Morning Show says his party [NDC] respects the decision of the Electoral Commission and will work with it.
He again stated that if the EC has accepted the proposal of the opposition NPP, this would have compelled the Commission to compile a new register anytime people die in the country as General Secretary of the NDC suggested in his defense to maintain the current voters' register.

"…that is why General Mosquito, leading the NDC at the EC forum stated that people die every day and per the argument of the NPP, we have to have a new register anytime anybody dies…this argument of the NPP didn't make any logical sense to call for a new register," he jabbed.

He apparently stated that the 10 percent work in progress of Dr. Bawumia and Nana Addo on the Togolese register was not enough to convince Ghanaians to accept and support their call for a new voters' register.

"As at now, nobody knows where the 90 percent is, but they still insist that we should accept the 10 percent work; that's abysmal failure of any work in progress and to use that to change the register because of Akufo Addo's inordinate desire to become President at all cost…the EC saw the argument of the NPP watery", he chided.
Source: peacefmonline