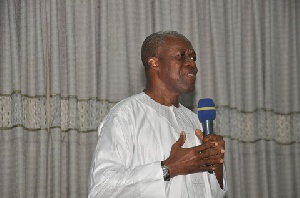 Vice President Paa Kwesi Bekoe Amissah-Arthur has urged Ghanaians to ignore the incessant attacks by the New Patriotic Party(NPP) on the Mahama administration .
The NPP, he explained, has a deliberate policy of fault finding just to paint the NDC government as incompetent in the eyes of Ghanaians with the view to winning political power.

Addressing a gathering at the Cape Coast Polytechnic, Mr. Amissah-Arthur admonished Ghanaians not to make the mistake of voting back the NPP into power as the party has nothing good to offer Ghanaians.

According to him, the manifesto of the NPP is full of unrealistic and needless targets which will plunge the country into serious crises if they are voted for.

"I went through the NPP manifesto and I did not come across any policy on job creation. I don't know how they are going to create jobs. Maybe you can find one when you read it but for me I could not find one," he indicated.

He also admonished Ghanaians to be wary of the falsehood being propagated about by the NPP amidst overwhelming evidence that the NDC administration has chalked huge successes in putting the economy on a higher pedestal.
The NPP, especially their running mate Dr. Mahamadu Bawumia he stated, is the worst culprit in the twisting of facts.

He equated Dr. Bawumia and other functionaries of the NPP to the candidate of the Republican Party of the United States of America stressing that they have made their mind never to appreciate government for successes chalked in running the country.

"They live in their own world and make every ill of society the responsibility of their opponents.

"There is not one positive thing that NPP says NDC has done. Not the peace we enjoy, not the economic growth we have chalked, not the infrastructure that everybody admits," he stated.