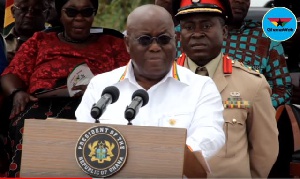 Member of Parliament (MP) for the Lower Manya Constituency in the Eastern Region, Hon Ebenezer Okletey Terlarbi, has expressed his greatest worry regarding the New Patriotic Party's free Senior High School [SHS] even though he describes the policy as an excellent one to the state.
"How can we organize such a national programme without any documented policy to strengthen its effectiveness on which all other governments after this must comply with to keep the process in action," he lamented.

To him, the NPP wants to fulfill this particular promise at all cost to prevent them being referred to their campaign promises in the future.

According to him looking at the current stage of the process clearly shows there was no policy documented to forever guide the direction and implementation of the programme.

"Can a programme come to stay when it has no by-laws per the constitution of this land? This is a question to President Nana Addo Danquah Akufo-Addo and his government".
He added "A lot of people have criticized the National Democratic Congress [NDC] of being against free SHS, which is false rather, all we are asking the NPP is not to haphazardly introduce the system, but must also produce a written document which will bind it forever".

Speaking on UTV's 'Adekye Nsroma' political segment, Hon. Terlarbi asserted that as a developing country we must not serve our nation based on our political gains because our income generated has a lot of responsibilities.