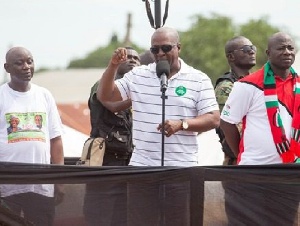 President John Dramani Mahama has urged residents of Obuasi not to entertain the idea of considering voting for the New Patriotic Party (NPP) in the coming general elections.
The opposition party, he noted, is more divided than any other political party and therefore cannot govern the country when given the mandate to do so.

He wants Ghanaians to continue to leave the NPP in opposition until they put their house in order before considering them for the highest public servant position of the land.

Speaking at a rally in New Edubiase, Adansi Asokwa, Adansi Akrofuom, Obuasi West and Obuasi East constituencies in the Ashanti Region, President Mahama said he is very confident that the elephant family is not ready for power unlike the governing National Democratic Congress (NDC) that is more than prepared to continue changing the lives of Ghanaians when given another four-year term to govern the country.
The NDC, he stressed, is the only party stable enough to govern the former British Colony.

"Today, the party that is ready to govern this country is the NDC. Why am I saying so? Today, the NDC is the most united and well organised party than any other party in Ghana. Look at what's going on in the NPP. The NPP is divided into two factions. If that party is rife with these divisions even in opposition, what will happen if we give them power?" he noted.

He added "The party is not ready for power because you must unite yourselves before you can unite Ghana. The person leading the party is not ready for power because if you look at his track record he is not the type of person who can unite Ghana. Ever since I ascended to the throne, I see Ghanaians as one people and so I have never discriminated against anyone. And so, I am going to be a president for all. For the four years I have been power, Ghana has been experiencing peace. So, the choice is clear and I am convinced that the work that we have done will be rewarded by Ghanaians."