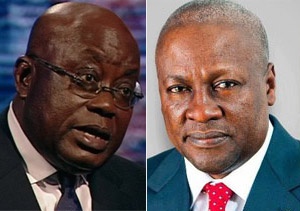 The ruling National Democratic Congress (NDC) has dared the opposition New Patriotic Party (NPP) to produce the Burkina Faso and Côte d'Ivoire voters register which the party has said will back its claim that foreign nationals are indeed registered on the Ghanaian electoral roll.
The NDC said almost three (3) months after the NPP served notice it would make public the voters register of the two francophone countries, it has failed to do so.

The largest opposition party's running mate- Dr Mahamadu Bawumia- at a press conference about two months ago stated that over 76, 286 people with same names and pictures are in the voters' registers of both Ghana and Togo, which makes Ghana's register not credible.

"Our investigative team obtained the Togo voters' register which was publicly displayed prior to the 2015 Togolese elections. Using facial biometric recognition technology, the system has found 76,286 potential matches of the same people, with the same names and faces on the Ghanaian as well as Togolese voters registers; some 2000 of which we present in the power point presentation,"

"I should note that so far, we have only completed less than 10% of the work on the Togolese register and we will begin work on comparing the Ivorian register with Ghana's shortly and follow that with the Burkina Faso register," Dr. Bawumia said at a News conference organised by the NPP.
But speaking to Kwaku Owusu Adjei on Si Mi So on Kasapa 102.3 FM, Koku Anyidoho stated that he is not surprised the NPP has not been able to produce the registers, simply because the party doesn't have those documents in its possession.

He noted that the NPP has resorted to making all sorts of spurious allegations to have the current voters register changed because it sees defeat staring glaringly at the party in the upcoming general election.

"The NPP's claim is baseless. The party knows it has already lost the 2016 elections. They look at how we the NDC are focused and united around President John Mahama, as against how indiscipline has wrapped around the NPP's shoulders. The party knows clearly it cannot win with this register so it wants a new one compiled so it can populate the new register with several minors in their stronghold."