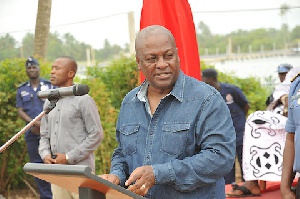 President John Mahama has taken a swipe at the opposition New Patriotic Party (NPP), describing it as a party that lacks visionary leadership.
Mahama said just as the NPP's tradition undermined Ghana's first President, Dr Kwame Nkrumah, their present leadership is working hard to mislead the public into thinking that the massive investments in infrastructure is a misplaced priority.

Mr Mahama was addressing hundreds of supporters at Kokompe near Takoradi as part of his campaign in the Western region.

"Yaanom are well known, they never change their ways. They first tried in vain to sabotage Ghana's march towards independence. Nkrumah's regime never had its peace of mind. They were against the construction of the Akosombo Dam, Tema Motorway, expanded the rail lines, the companies he built and complained bitterly at that time, Kwame Nkrumah was piling debts for Ghana. Today he is gone and the Akosombo Dam and several other projects are still benefitting the economy," Mahama told the crowd.

He made reference to former President Rawlings' address at the launch of the NDC campaign and said the NDC founder only reminded the public of the NPP today, as treacherous same people with similar mindset.

"Rawlings was blunt that they are the same people, but keep changing names. They (NPP) have kept changing names and they have no vision, they careless about the future generation," he added.

Love for Zongos
President Mahama assured Muslims of the unwavering bondage between them and the NDC.

"NDC and the Zongo community have strong ties. And it starts from the days of former President Rawlings' government. He realised there was little recognition for the Muslim religious calendar and introduced two holidays to commemorate Idhr Fitr and Idhl Adha.

"He established the Islamic Education Unit to guarantee strict Moslem education. When late President Mills assumed office in 2009, Hajj Pilgrims used to sleep on the tarmac at Kotoka International Airport awaiting their flights. The bad condition there made them susceptible to malaria infection and other communicable diseases that affected them when they arrived for the Hajj. So we quickly improved that by establishing the Hajj Village," Mahama stated.

He added: "I will be in Tamale on Friday (today). For the first time in history, the first batch of pilgrims will fly directly from Tamale to Jeddah. I will be in Tamale to commission that. It tells you about our commitment to help the Zongo community and the wellbeing of all Ghanaians"

Mahama urged the supporters to go out and campaign to ensure the NDC wins convincingly come December 7. He said a vote for him and the NDC candidates would also guarantee a comfortable majority to help his government.

Investments
Mahama said his government is focused and will continue the massive investments to lay the foundation for accelerated development.

"In Sekondi Takoradi, we are expanding the port and after completion it will give 3,000 direct and indirect jobs. 75 kilometers of roads in Sekondi-Takoradi are undergoing asphalt overlay. We have refurbished the Kojokrom Train Station and rail lines and that will be extended to Awaso, through Dunkwa to Kumasi.

"We have given the Ghana Ports and Harbours Authority to source funding for that project. We are also collaborating with a private investor to establish a ceramic tile factory in Takoradi. The new ceramic factory will produce 40 million square feet of tiles a year and this can meet the demand for floor, wall and bathroom tiles nationwide," he noted.

"When they were in office they chose to sell slippers are scraps and now they claim we don't eat the schools we are building, the hospitals, the roads and the water we are providing. But we have a vision to develop Ghana to ensure our generation and those yet to be born have better opportunities," the NDC presidential candidate noted.