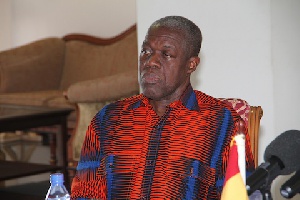 The General Secretary of the National Democratic Congress (NDC), Johnson Asiedu Nketia, has charged members of the party in the Central region to work hard in winning the region for the party in the December 7 general elections.
According to him, victory for the party in the impending elections will help paint a good impression about the clout of the vice president not only in NDC but the region as a whole.

He explained the that defeat of the party in terms of votes from the Central region will mean a disgrace for the vice president as it will be interpreted that his influence has waned in the region and subsequently affect his political aspirations.

Speaking at the campaign launch of the deputy Central regional minister and parliamentary candidate for the Agona East Constituency, Queenstar Pokuaa Sawyer, Mr. Asiedu Nketia popularly known as "General Mosquito" alleged that the New Patriotic Party (NPP) have hatched a plan to embarrass the vice president by winning more seats in the Central region to send a message to Ghanaians that the vice president is not popular and influential even in his own region.

He explained that the NPP did same to the late President Atta Mills in 2004 thereby making him a laughing stock in the eyes of all well-meaning Ghanaians.
President Mahama, he explained, nearly suffered the same fate but for the fact that he ultimately won the general elections to become the president of Ghana.

Such actions of the NPP, he added, ought to be checked as it does not speak well of the party as a lot of people will think the party and its presidential candidates do not really enjoy the support of their own kindred, sparking controversy over their qualities and suitability.

The relentless campaign presence of the NPP in the central region, according to him, is ample evidence that the party is committed not only in winning more votes from the region but ultimately end the political aspirations of the vice president.