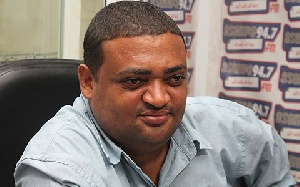 Deputy NADMO Coordinator, Joseph Yamin, has said the New Patriotic Party (NPP) has realized that they will lose the upcoming December polls, hence have started putting the blame on the Police.
He explained that they are blaming the police for intimidation, in order for their supporters to appreciate that Nana Addo's third successive defeat was caused by their actions.

Speaking on Adom TV's Badwam on Monday, Yamin disclosed that NPP's problem has always been with their leader but they are refusing to see it, that's why lose the elections.

He indicated that unlike late President Atta Mills who gathered votes to win on his third time, Akuffo Addo's votes has been declining and that explains why Ghanaians do not want him to become President.
Again, he said the NPP candidate is no match for the candidates put forward by the NDC and even President Mahama makes it worse, given that he has more experience than Nana Addo.

"President Kufuor in a recent statement in the Eastern Region encouraged people to vote for the chief apprentice who has studied the job well and that is President Mahama because his record beats that of Akuffo Addo", he pointed out.