Politics Fri, 23 Feb 2018
The seats of two prominent lawmakers, Isaac Adongo (MP for Bolgatanga Central) and Dr. Dominic Ayine (MP for Bolgatanga East), who appear to have been a thorn in the flesh of the incumbent New Patriotic Party (NPP), have been mentioned among the parliamentary chairs a strong NPP woman says she is poised to capture for her party in 2020.
As they look to reappear on the ballot paper at the 2020 polls, the two vocal legislators may want to take the warnings seriously, perhaps by relaxing their bites on the elephant government for now to focus more on reinforcing their footholds in their respective constituencies ahead of the next general elections.
This is because memories of the role Georgina Ayamba, a Deputy Upper East Regional Women's Organiser of the NPP, popularly called "Mama Gee" in the north, played in the heavy downfall of some giant NDC lawgivers at some umbrella strongholds in 2016 are still fresh in several minds.
Speaking to newsmen in Bolgatanga, Madam Ayamba, who is vying for the position of the Regional Women's Organiser in the upcoming NPP regional executive elections, said she had mapped out some 'airstrike strategies' (which she did not disclose) to further downsize the NDC's 12 seats in the region to a level that would see the NPP's current 3 slots in Parliament given a fantastic boost.
"For now, I will not reveal my plans. I will not reveal my plans. As for 2020, NPP— we are going to get more seats because Ghanaians have seen the good work that we have done so far. Ghanaians will give us more seats— not only Bolga seats—more seats. They will definitely give us a seat in Bolga. With the plans I have, 80% of the MPs will be NPP," she said.
Dr. Ayine won the seat for a second time in 2016 with 10,492 votes, representing 70.63%, as NPP's Emmanuel Abugre Abole finished behind him with 4,224 votes, a 28.44% attempt. Debutant Isaac Adongo bagged 25,042 votes, which stand for 51.41%, to beat NPP's Rex Simeon Asanga who polled 15,610 ballots that correspond to 32.04%.
A Hawa Yakubu mentee
At least 5 among the NPP women said to be seriously tying their headgears for the Upper East Regional Women's Organiser position already have their campaign souvenirs flying and splashed everywhere in the region.
Mama Gee, who disclosed she was born into an NPP family 40 years ago, said she was not daunted by the calibre of her competitors, having been inspired and mentored by legendary politician Hawa Yakubu (March 1948- March 2007).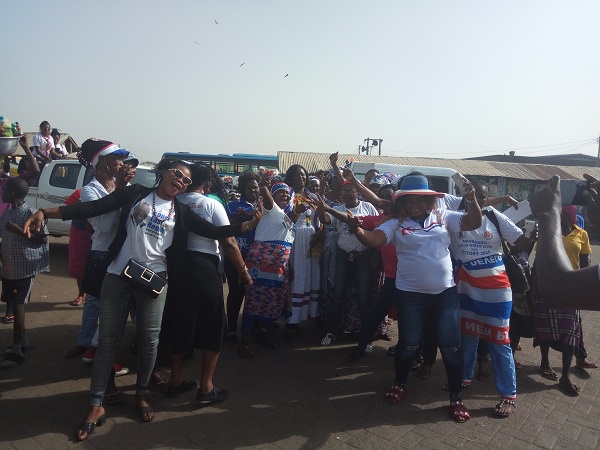 "I am a mother for all and a born leader. Back at Agoli Primary, I was the girl's prefect. JSS, I was the office girl. Bawku Senior Secondary, I was the girl's prefect. St. John Bosco's Training College, I was Tono House Prefect. Assemblies of God Church, I was a Sunday School superintendent from 2007 to 2016. In GES, I've been Bawku West District GNAT-LAS Coordinator.
"It is my desire to diligently carry the voices of women to wherever they will be heard. I have been a leader. All along, I have been leading women. I know what women want. With this record, I will do better if I'm given the nod as a Regional Women's Organiser. That is why I have offered myself," said the aspirant who has headed many schools in the region and was adjudged the 2010 Bawku West District Best Teacher.
Tributes to NPP's smart ladies, best wishes to aspirants at tomorrow's constituency polls
According to the NPP's Upper East Regional Secretary, Cletus Ayambire, 3 of the region's 15 constituencies will not take part in Saturday's (tomorrow's) nationwide constituency elections.
"We are prepared for the Saturday elections. I've just received a call from the national level that they have dispatched our registers, for the electorate, for 12 constituencies. Garu, Tempane and Fumbisi will not be able to take part this Saturday. They have some pertinent issues. Theirs will come off on Monday," said the Regional Secretary who himself is enmeshed in a serious re-election campaign.
Whilst commending a popular clique of NPP young women officially known as "The Smart Ladies" for their contributions to the party's success at the 2016 general elections, Mama Gee also promised to motivate the group to improve on the achievements chalked for the party so far. "I also would like to use this platform to wish all constituency aspirants, those who are aspiring to become constituency executives, good luck. And I pray that we'll go through a successful and a peaceful delegates' conference and will elect people that can actually lead the party and work for the party. I wish every contestant good luck.
"Not all will be winners. In every race, there will be a winner and there will be a loser. Accept whatever God gives you; He has good plans for you. God may say, 'This is not where I need your services; go elsewhere and work better for the party.' I want to say that everybody should accept whatever comes at the end of the conference. Come 2020, Ghanaians will surely say we deserve more seats," she stressed.