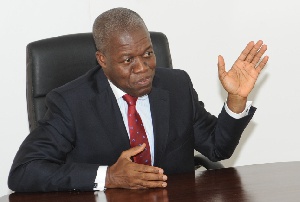 Vice President Paa Kwesi Bekoe Amissah-Arthur has described as reckless the economic programmes contained in the manifesto of the opposition New Patriotic Party (NPP).
He claims the party should not be even given the opportunity to implement those programmes as they will plunge the country into deep financial trouble if allowed.

Vice President Amissah-Arthur made this known on Tuesday, October 25 when he delivered a lecture to Economics students of the University of Cape Coast. The lecture was themed: 'The Economy: Strengthening Teaching and Research in Economics for Nation Building'.

Vice President Amissah-Arthur bemoaned the lack of gratitude by the NPP in not recognizing the economic gains made in the last eight years in their manifesto. He said not even the "physical manifestations" that have taken place in the cities found their way into the manifesto of the opposition party.
"We did an analysis of that paper and we noticed that in the first part there are some very populist policies." He explained that the $1 million per constituency programme is not feasible especially when constituencies, unlike districts, have no proper administration to monitor expenditure.

He said the programme is even going to burden the system as about $70 billion of public expenditure will be thrown into the system. "The implication of this to many of us is dire," he pointed out, adding that "this is a reckless system of managing public financing".

He noted that the NPP is projecting a deficit in excess of 20 per cent, which is 15 per cent more than the current projection by the Minister of Finance. According to him, even the 12 per cent deficit in 2012 had a crippling effect on the economy in the following years. "[The manifesto] is for me the most reckless thing I have read in quite a while."