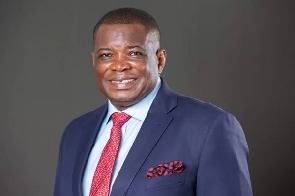 Deputy Minority Leader Kwame Governs Agbodza has opined that Ghana's education sector is currently not in a good place.
The Adaklu Member of Parliament says there can be no doubt whatsoever that over the past seven years, the educational priorities of this government have been twofold: reducing education to a mere administrative process of increasing enrolment mainly at the secondary level and reducing education to a political rhetoric for votes at the expense of quality.

The lawmaker explained that the Akufo-Addo/Bawumia NPP government's educational policy direction has been to pursue their political promises and not a holistic view of education.

"Thus, in formulating educational policy, valuable inputs from key stakeholders in our educational sector, such as teachers, parent-teacher associations, CSOs, the opposition, and even students like you, have been relegated to the background. The consequences have not been pleasant as you can all attest to."

He made the remarks as a guest speaker at the handing-over ceremony of the Graduate Students Association of Ghana, University of Ghana Legon.
He lamented that the result of this government's lack of consultation and policy coherence in education is an educational sector that is beset with multiple problems. Thus, whereas vast resources are being channelled into the middle of the educational structure (secondary education), learning outcomes remain poor, as confirmed by the IMF in its recent Staff Report on our request for a fund-supported programme.

This lopsided prioritization has predictably dislocated both basic and tertiary education, thereby leaving us with a complex problem to grapple with.

Distinguished friends, even though our focus today is on the state of graduate education, it bears reminding that the various interlinked parts must all function properly if we are to succeed in producing that holistic and fully-baked graduate that we all want you to be. As I have already intimated, our educational sector today suffers from the general deficit of lack of sincerity and candour with policy, misplaced priorities, waste, corruption and leadership failure," he added.

"As a Minority group in Parliament, our oversight in this sector has revealed that the problem is not one of lack of adequate resources. Indeed, education remains one of the most heavily-funded areas of this administration. Allocations to the Ministry of Education and other areas of education in the 2023 budget, and the 2022 Appropriation Bill, bear this fact out."