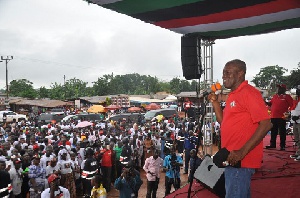 Vice president Kwesi Bekoe Amissah-Arthur has described as "reckless" the manifesto of the opposition New Patriotic Party (NPP) as it holds nothing meaningful for the development of Ghana.
He described as populist the party's policy statement, especially policies on tax reduction, the one-district-one factory idea as well as a million dollar for each constituency for development.

He explained that such policies will deepen the politicization and bureaucracies in the districts that cripple development in such areas since there is no proper administrative systems to monitor such expenditure.

Addressing students of the University of Cape Coast on the topic: "The Economy: Strengthening Teaching and Research in Economics for Nation Building," vice president Amissah-Arthur said the policies will even burden the system as a whopping $70 billion of public expenditure will be thrown into such projects with little returns.
The country, he said, will be polarized further if the policies, specifically the $1m per constituency policy is allowed to stand as it is not even feasible to be implemented.

He therefore called on Ghanaians not to vote for the NPP as their manifesto will have dire consequences on the economy if allowed to be implemented.

The proposal of the NPP to reduce taxes on some critical areas alone, he said, will result in a 20% deficit which will ground the economy to a halt if implemented with government revenue reducing.