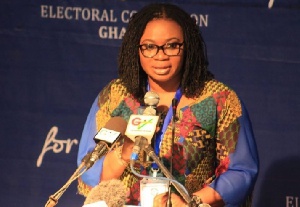 A Deputy General Secretary of the opposition New Patriotic Party (NPP) has taken a swipe at the Chairperson of the Electoral Commission of Ghana, Madam Charlotte Osei.
Speaking on Ark FM in the Brong Ahafo Region yesterday, Nana Obiri Boahen said the EC chairperson "is naive and does not have the requisite skill to hold her current position."

"People of my hometown, Abronye, will not choose Charlotte Osei to even be a funeral committee chairperson.

"Where does it state in the Constitution that someone vying for a position should fill a form and send to the Auditor-General's department?" he queried.
Nana Obiri Boahen who was commenting on the EC's call for presidential and parliamentary nominees to declare their assets with the Auditor-General or lose their eligibility to contest in the December 7 polls said Madam Charlotte Osei as a lawyer should have cross checked with the Constitution before issuing out such a statement.

A statement signed by the Head of Communications of EC, Eric Kofi Dzakpasu specified that the candidates were, among other things, "to also take note of the requirement under law to ensure that their tax obligations are met in full or the need to make satisfactory arrangements in respect of tax obligations with the appropriate authority."

Nana Obiri Boahen stated that the CI 94 which is governing the 2016 elections is a subsidiary legislation and therefore the EC's order was "considered as null and void because it is in conflict with the Constitution."