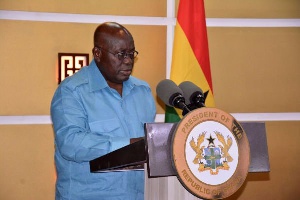 A founding member of the opposition National Democratic Congress (NDC), Major Osahene Boakye-Djan (rtd), a retired military officer, says the New Patriotic Party (NPP) would have lost the 2016 elections if voters knew their deceptive nature surrounding the flagship education policy, the Free Senior High School (SHS).
The NPP he said deceived Ghanaians to vote for them only to win power and throw dust into the eyes of voters.

The retired military officer slammed the NPP stating, the party promised to roll out the free SHS for every child but have qualified the terms for the free SHS after winning. ''We were told in an unqualified manner that if government comes, they will give us free SHS, was that not the case?

Today what do we hear? We've been told the roll out of the policy will be in September and will only benefit first year students. And you get a whole lot of people disappointed, parents of those who are in the second year are all disappointed.'' He quizzed, ''if the policy would have been qualified, how many of these parents would have voted for them.'' He called for such deceptive nature of politics to be erased from our democracy since it will have negative implications for us as a country. ''If you don't approach issues with honesty and commitment to the voter and they get the disillusion that it happened in Britain and America, that won't be a good news for us.

When those promises where being made, they were not qualified but they have qualified them. This is a danger for the NPP and they must run from it.''
The policy is set to take effect in September 2017 in fulfillment of a long held campaign promise by the New Patriotic Party. The Minister for Monitoring and Evaluation, Anthony Akoto- Osei, has said the Free Senior High School (SHS) programme to be rolled out in September this year will only cover first year students. Government in its maiden budget statement disclosed it had budgeted GHS400million to fund the free SHS policy.

He explained that high school education would be free for "those entering in the September 2017/2018 academic year, then the next batch comes, then the next", adding: "So, in three cycles, that is in three years' time, the entire stream of senior high school education will be free."

But Major Osahene Boakye-Djan (rtd) says Ghanaians were deceived by the ruling government and very soon, Ghanaians will pay them back for deceiving them.