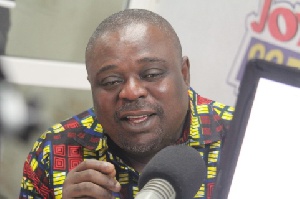 We in the National Democratic Congress (NDC) cannot use Nana Addo as our campaign message but rather the New Patriotic Party (NPP) is using Nana Addo as their campaign message. We are rather telling Ghanaians what we've been able to do and what we will do if we are re-elected into office, Deputy General Secretary of the party, Mr. Koku Anyidoho has said.
Speaking in an interview with Kwabena Agyapong host of Eboboba on Rainbow Radio 87.5Fm, the deputy scribe of the ruling party refuted claims by the opposition NPP that President Mahama is attacking their presidential candidate because he lacks the message to convince Ghanaians to re-elect him as president.

The NPP in a press conference held on Thursday took a swipe at President Mahama for his recent attacks on Nana Addo. The president described Nana Addo as a dictator who has failed to unite his party. The president warned voters' to risk suffering if they should vote the NPP.

The NPP in their response lambasted Mahama and described him being power drunk. But responding to the comment by the NPP, Koku Anyidoho said he wonders why the NPP are responding to what they started. He said, the NPP had consistently called Mahama a corrupt leader and in responding to their allegations, he charged voters' to access the two candidates to establish which of them a good leader is.
President Mahama he said spoke the truth and was spot on with his message stressing further that ''We are looking at leaders who can unite people and those who are divisive...Nana Addo cannot be our campaign message. We are talking about what we have done and what can do...We are saying that when it comes to leadership style, let Ghanaians access President Mahama and Nana Addo and see who is of a divisive character and who unites more.''

Koku Anyidoho indicated that it is pertinent for politicians to focus on campaign messages as some groups are calling, however, the NPP has attacked the integrity of President Mahama and so, he [President Mahama] needed to respond the NPP by pointing to the weakness of his rival.

''If the NPP is accusing Mahama of corruption then he has to also ask if their candidate, Nana Addo who is seeking to lead this country, is a unifier. Someone who suspended his national officers and divided his party cannot lead this country, and that is what the president sought to tell Ghanaians.''