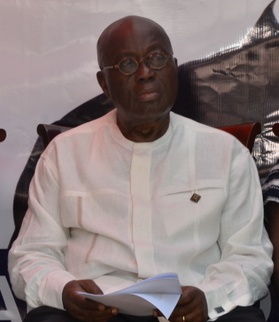 Pollster and Editor-In-Chief of the Daily Dispatch newspaper, Ben Ephson says he feels very sorry for the internal wrangling that has plagued the New Patriotic Party (NPP), noting that it will go a long way to affect the fortunes of the party in the 2016 general elections.
In situations like this, he said it is always the flagbearer or Presidential Candidate who bears the brunt.

"Nana Addo may have his faults but I think that he has always been a victim of circumstances. He has been voted for and if the NPP does not win, it does not affect Kwabena Agyepong and Afoko but rather Nana Addo because he has his name on the ballot," Mr. Ephson noted in an interview with Fiifi Banson on Kasapa FM on Wednesday.

The NPP has come under severe criticism from the public for not being able to resolve their internal differences.

The Danquah-Busia-Dombo Tradition has in the last couple of months been blighted by in-house fighting ranging from machete attacks to alleged operations of a secret Ecobank account by the 1st National Vice-Chairman of the party, Freddie Blay and Treasurer, Kwabena Abankwa Yeboah.
While some are faulting the National Chairman of the Party, Paul Afoko and the General Secretary, Kwabena Agyepong, others have put the blame at the doorsteps of the party's flagbearer, Nana Akufo-Addo, for being the brain behind the internal rancor because he has not been able to put his boys, especially, the likes of Freddie Blay, to order.

But Mr. Ephson said irrespective of that, Nana Addo has always been at the receiving end of the impact of such actions.

When asked by Banson if Nana Addo trusts Kwabena Agyepong, he said "even if Nana Addo does not trust Kwabena Agyepong, he will never let everybody see it. That is the Nana Addo that I know."