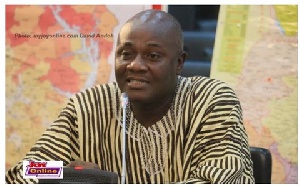 The Minister-designate for Regional Reorganization and Development, Daniel Botwe, has assured members of Parliament's Appointments Committee that the creation of new regions by the Akufo-Addo government will be in the interest of the nation not political parties.
According to him, the ultimate reason behind the policy was to ensure "effective administration and accelerated development."

President Nana Akufo-Addo during his campaign tour promised to create new regions. He thus followed it with the creation of the Regional Reorganization and Development portfolio to execute it.

Announcing Mr. Botwe as Minister-designate for the said portfolio, Akufo-Addo said the regions to be divided would be the Northern, Western, Volta and the Brong-Ahafo regions.

According to him, "The process of devolution of power will require that we look again at the regional structures of our country all with the aim of trying to promote rapid development of Ghana."

Appearing before the vetting body on Monday as the man to supervise the creation of the said regions, Mr. Botwe said the mere creation of the region will aid development.

He assured the committee that the move was not meant to give any political party electoral advantage or to promote gerrymandering. Gerrymandering is defined as the act of manipulating the boundaries of (an electoral constituency) so as to favour one party or class.
"I can assure your committee that it is the view of his Excellency the president [Nana Akufo-Addo] that this is national assignment for the interest of all of us Ghanaians. There is no attempt to do anything to favour any political party for that matter the New Patriotic Party (NPP)," he told the committee.

"I can assure you that his Excellency the president doesn't have that mind set at all. It is for Ghana. I'm pretty about that and we'll work in a way that all of us will appreciate the fact that it is just for national interest," the Member of Parliament for Okere added.

"There'll be no attempt to favour any political party with the regional reorganisation… crying of gerrymandering it doesn't give us an advantage. Reorganisation of constituencies and districts doesn't create an advantage for any party, if it does, it's temporal. We should address the needs of the people.

"We have Ghana at heart and it is just for national interest. It will enhance administration and help create new roles. Nothing will be done to create unnecessary advantage for any political party with the reorganisation of the regions," the nominee stressed. "The creation of new regions will not be done to favour any political party."

He added: "A lot of consultation will take place to allay fears, with goodwill we will overcome the challenges… Nothing will be done to give the NPP political advantage with the creation of the new regions. The President feels this reorganisation will be of great help to the country and we have to pursue it."