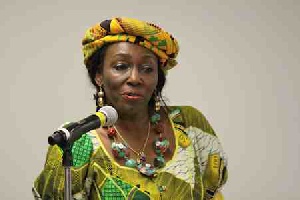 Fri, 16 Oct 2015 Source: Daily Guide
Former first lady, Nana Konadu Agyeman-Rawlings, has stressed that changing the voter register, which she and some other stakeholders insist is bloated, is a must.
She also said it is not the preserve of the new Chairperson of the Electoral Commission (EC), Charlotte Osei, to decide whether Ghana needs a new register or not.

"It is not for the EC chair to decide whether the register must be changed or not. Once there is evidence that there is a problem with it, something must be done to avoid problems during the elections," she asserted.

Nana Konadu has joined a group of religious bodies, including the Catholic Bishops' Conference, Christian Council of Ghana as well as statesmen and women and opinion leaders such as former President JJ Rawlings, Otumfuo Osei Tutu II and Dr Joyce Aryee, who had stressed that if a new voter register is the way forward to ensure peaceful elections in 2016, then the EC must accept the proposal.

Speaking at a short meeting with leaders of the Let My Vote Count Alliance (LMVCA), who paid a courtesy call on the former first family last Wednesday, Mrs Agyeman-Rawlings said that it was clear the current biometric voter register (BVR) had been tampered with and needed to be changed before the 2016 general elections.

In early September, the former first lady – who broke ranks with the ruling National Democratic Congress (NDC) years ago to form her own National Democratic Party (NDP) – said the register was bloated and asked all stakeholders, including the EC, not to be pretentious over the issue.

She said a new electoral roll would serve the interest of the country as it would ensure clean and fair elections.
"I believe that it will serve the interest of Ghana and Ghanaians if the voters' register is revisited and we all re-register and we weed out all the ghost names and foreign names, see the real potential of the Ghanaian voter and let them vote for who they want. I think it is in our interest as a nation to do that because to pretend we don't know that it is bloated and all that, I mean, it's a fuss."

Nana Konadu claimed, "As much as the NDP says that the voters' register should be cleaned, we also believe that if it is done and done well for Ghana to have a quick step ahead of the rest of West Africa, maybe we should also be looking at electronic voting after we've reregistered."

"… You go to the box, you put your hand on the machine where you want to vote and it's counting it for you. No human being will be counting to add anything to any figure. It will be clear for us as a people that this person has won, he has won, and then there will be no discrepancies and so on. We believe that the voters' register should be looked at again…so that it will be clean, no pink sheets issue… ," she noted.

Former President Rawlings, in a similar meeting with the LMVCA, said a credible register is non-negotiable.

"There is a lot of stress in the air; there is a lot of nervousness…it is going to be a test on all of us," according to him.

Jerry Rawlings asked the EC to listen to both protagonists and antagonists of the voter register replacement, including organized groups and individuals, in addressing doubts about the list of eligible voters.
Source: Daily Guide