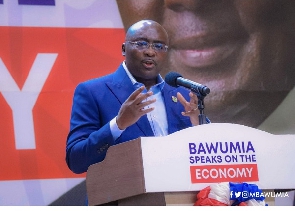 The spokesperson for the Vice President, Dr. Gideon Boako has observed that there is no basis over claims that Asantes would not vote for Dr. Mahamudu Bawumia in the 2024 polls.
Some persons within the New Patriotic Party(NPP) who are making the claims, seek to suggest he would not be the favourite of voters because he is not from the Ashanti Region which is considered the 'World Bank' of the party.

But Dr Boako argues that there is no basis behind the claims that NPP will lose in the Ashanti Region if Vice President Dr Bawumia is made the Presidential candidate of the governing party.

Speaking on Angel Fm in Kumasiin response to such claims by some flagbearer aspirants and their supporters, he averred "Between Mahama and Bawumia, they are all northerners so what will be your motivation for not voting for Bawumia?

"There is no motivation for anybody to say that if you bring Bawumia Asantes won't vote for him. If Asantes won't vote for Bawumia the other option is Mahama who is also from the north"
"Ask yourself that between Bawumia and Mahama who will have more appointees from the Ashanti region?" Dr Gideon Boako asked Kwame Tanko on the show.

According to him choosing somebody to lead the party based on ethnicity will not help because if the person is not able to win at the end of the day, people in the region who are most likely to have a greater number of ministers will end up not getting even one.

"At the end of the day, whoever becomes the flagbearer of the NPP and wins the general election will appoint most of his ministers from the Ashanti Region. It doesn't matter where the candidate will come from, you can't afford it. This is because most of the people who voted for the party come from this region.

To him, irrespective of where a presidential candidate of the NPP comes from, the Ashanti region will get the largest number of appointments; hence there is no reason for anyone to say people in the region are not going to vote for the NPP.