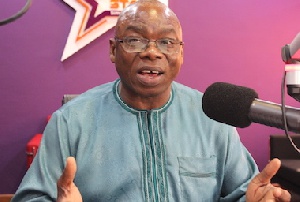 Presidential Advisor on Governance and Corruption Daniel Batidam, has stated there is no enough ground for political opponents to accuse President John Dramani Mahama of vote buying in the country.
He believes that the president's mandate has not elapsed and therefore in executing that mandate depending when resources are available, it should not be misconstrued to amount to vote buying.

"You are a president and you have a government to run for some time….there will be challenges and there will be advantages. Assuming the president was going round embarking on certain projects at the time long before the election will you also tag that as vote buying", he asked on the Ultimate Breakfast Show hosted by Lantam Papanko.

According to him, the president's distribution of outboard motors to fisher folks could be a mere coincidence because the minister of fisheries earlier disclosed the items were included in the country's budget presented to parliament.

He however called for rules to draw a clear distinction between presidential mandate and party activities to properly deal with the issues of vote buying.
Mr. Batidam insisted that the president has the responsibility to come with solutions in order to mitigate challenges faced citizenry irrespective of the period but therefore cautioned the citizenry of misconstruing presidential mandate to mean vote buying.

President Mahama who rounded up his #Changinglives tour of the Western Region, is being accused by members of the opposition New Patriotic Party of vote buying after he presented outboard motors to fisher folks in the area.

But Mr. Batidam insists the president's donation cannot constitute vote buying because he remains president until after December if he loses his re-election bid.