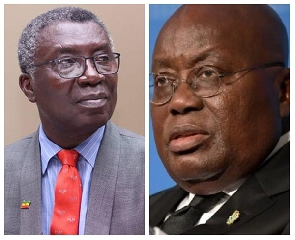 Sat, 29 Apr 2023 Source: Richard Obeng Bediako, Contributor
The government's spokesperson for administration and security, Palgrave Boakye-Danquah, has refuted claims that President Nana Addo Dankwa Akufo-Addo's mansion in Kyebi's backyard is being used for illegal mining.
Palgrave Boakye-Danquah asserts that it is simple to verify the claim.

He claims that there has never been any illegal mining at the compound.

"The claim that people are galamseying in the backyard of the President's residence in Kyebi is false and untrue, the media should go there and verify for themselves."I've often wondered how people in high positions could degrade themselves to the point of lying," Palgrave Boakye-Danquah told GTV.
His statement comes in response to a claim made by Professor Kwabena Frimpong Boateng, a former minister of environment, science, technology, and innovation who also served as chair of the government's inter-ministerial committee on illegal mining (IMCIM), that galamsey is taking place not far from President Akufo-Addo's home in Kyebi.

Professor Kwabena Frimpong-Boateng claimed that a party youth organizer had a concession closer to the president's home in his 37-page report to the chief of staff on the fight against illicit mining.
Source: Richard Obeng Bediako, Contributor