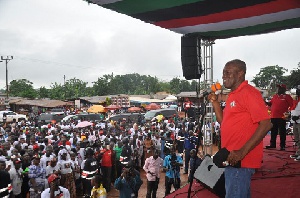 The 2016 manifesto of the main opposition New Patriotic Party (NPP) has no job creation strategies or policies, Vice President Kwesi Amissah-Arthur has said.
Speaking to students at Cape Coast Polytechnic in the Central Region, Mr Amissah-Arthur said: "I went through the NPP manifesto and I did not come across any policy on job creation."

"I don't know how they are going to create jobs. Maybe you can find one when you read it but for me I could not find one," he indicated.

In his view, the NPP's recently launched manifesto only contains lofty ideas which are not practicable, adding that the party will only plunged Ghana into crisis if voted into office.
Mr Amissah-Arthur also accused the NPP, especially his opposite number, Dr Mahamudu Bawumia of fact-twisting for political gains.

"They live in their own world and make every ill of society the responsibility of their opponents.

"There is not one positive thing that NPP says NDC has done. Not the peace we enjoy, not the economic growth we have chalked, not the infrastructure that everybody admits," he stated.