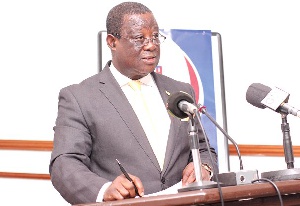 The Minister of Roads and Highways, Kwasi Amoako Atta has threatened to terminate the contracts of road contractors who do poor jobs while those who execute their contracts competently will be rewarded with more contracts, promising that an amount of GHC2.2 billion has been allocated to pay outstanding debts of contractors.
Speaking to newsmen the Member of Parliament for the Atiwa West Constituency stressed the point that shoddy work will not be tolerated under the Presidency of Akufo-Addo.

"In this month, all contractors who have their monies locked up will be paid. President Akufo-Addo has allocated GHC 2.2 billion to pay all contractors in order to finish their road contracts.

Contractors who do poor jobs will have their contracts terminated and given to those who can competently deliver the project. Hardworking contractors will be rewarded. Shoddy work will not be allowed under President Akufo-Addo's government," he warned.
The Minister warning on shoddy work comes at a time complaints are rife about contracts having been done haphazardly, and work done therefore deteriorating fast.

The Vice-President Dr Mahamudu Bawumia had announced that between this month and next month (October and November), all road contractors owed will be given some payment.

At a recent event at Lawra in the Upper West Region, he said "thanks to the good economic management of our government, 80% of all road contractors who are owed monies by government (most of who existed before we came into office) will be fully paid between October and November this year. The remaining 20% will be paid 40% of what they are owed now and the balance will be paid subsequently"