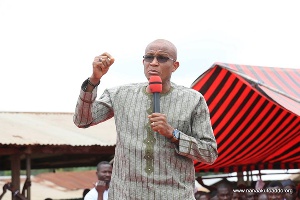 Information Minister, Mustapha Hamid, has assured that the government's flagship Free Senior High School (SHS) policy will continue to be free no matter the amount of negative and propagandist statements made against it, especially from antagonist.
According to him President Akufo-Addo always remember his Ministers to have in mind that they will adhere to every promise made to Ghanaians as he sees no reason why they can't fulfill promises made them during the 2016b electioneering period.

"Free SHS will at all cost be free under the watch of President Nana Akufo-Addo. See, the man we have given the mandate to lead us is a different person all together, because as his Ministers we sometimes get amazed when he keeps insisting in our meetings that he will fulfill every promise made to Ghanaians," he emphatically said.

In an interview with UTV on 'Adekye Nsroma' programme Thursday, Mustapha Hamid stressed that "all allegations against the free SHS funds generation should be ignored, since the money is already with government and ready to be disbursed to the various schools at the appropriate time".

His advice to persons spreading false messages about the Free SHS policy is to rather pray hard for its success.

He said the priority of the President is to see citizens educated for greater development of the nation.
He added that every great thing started with a first step as such the Free SHS Policy will be a success in the near future.

Meanwhile, the Ministry of Finance has said it will today release GHc 280 million for implementation of the Free Senior High School (SHS) programme this year.

The money which is a little over half the total amount needed for the programme is expected to hit the accounts of the 647 SHSs across the country.

The government in this year's budget allocated GHc 486 million for the implementation of the free SHS programme for the 2017/2018 academic year.