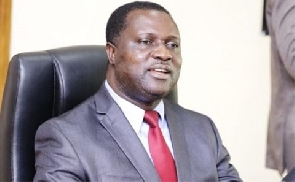 The Deputy Minister for Education, Dr. Yaw Osei Adutwum has reassured Ghanaians of government's commitment to maintain the Free Senior High School despite some challenges that have characterized the programme.
He admitted the challenges facing the programme that have seen senior high school students in public schools enjoy free education.

The minister reiterated government's effort to address the infrastructural deficit, saying "We acknowledge challenges with infrastructure that has led to an interim introduction of the double track system.

"We are addressing the infrastructural deficit in our educational institutions through the GETFund and from other government sources," Dr Adutwum assured.

This was contained in a speech read on his behalf by the Northern Regional Director for Education, Alhaji Mohammed Haroon Cambodia on the occasion of the 2019 Harmattan School at the University for Development Studies (UDS) in Tamale.

Organized by the Institute For Interdisciplinary Research and Consultancy Service (IIRaCS) in partnership with the UDS, the 2019 Harmattan School is the 13th edition since the programme was launched in 2017.
Making a presentation on Policy Alternative to Double Track System, the former Pro-Vice Chancellor for the University of Cape Coast, Professor George Oduro advised government to consider going back to the drawing board with the focus on getting only those who really need the Free SHS to benefit from the policy.

He advised government to try engaging private schools in Ghana as an alternative, something he said if done, would minimize the burden on high enrolment numbers the government is accommodating.

Prof. Oduro further called on government to focus on developing Vocational and Technical schools through the Free SHS policy to motivate people to enroll.

Speaking on the topic Refocusing Education or Training to Address Youth Unemployment, the Head of Department at the African and General Studies Department at UDS, Dr. Tuurosong Damasus called for training systems in Ghana to move from the manual to the digital.

That, he explained, would help meet the demands of the job market.
He was of the view that if people stop looking at curricular specific areas and concentrate on how to enhance their ability technologically, it will enable them to function in the changing place of work.

Dr. Damasus wondered why mobile phones are still banned at the Senior High School level in a technological era.

He said students should be allowed to use mobile phones, but constructively, in order to learn towards the future.

The aim of the Harmattan School is to provide a platform for researchers, civil society organizations, policy makers and non-governmental organizations to come together and brainstorm on developmental issues confronting Northern Ghana in particular and the country in general.