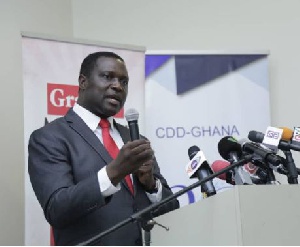 Government is not going to organise extra classes to augment the regular double track system so that students on vacation can be engaged, according to the Deputy Minister of Education, Dr Yaw Osei Adutwum.
The Double Track system creates a calendar of two semesters in a year for the SHS 1 class, containing 81 days per each semester and 41 days of vacation for a sandwich class.

Over 8,000 teachers are being recruited to handle the sandwich classes, so teachers are not be deprived of their holidays.

Under the new system, teaching hours are increased from six hours per day to eight hours per day.

Teaching hours are expected to increase from 1,080 hours per year under the current single-track system, to 1,134 hours per year under the proposed double-track system.

Government has also indicated that the system will last for between five to seven years, to allow it address the accommodation challenges in the various SHSs after which the schools will revert to the normal education calendar.
The Ghana Education Service (GES), last week, disclosed that it will organise extra classes for Senior High students who will go on break, so that even whiles on vacation or awaiting their turn to go to school, they do not gallivant about.

Deputy Public Relations Officer of GES, Isaac Asiedu Odei in an interview on Accra based TV3 disclosed that the extra classes will be held in church halls, community centers and private schools across the country for students on vacation.

But Dr Adutwum, flatly dismissed the suggestion.

The Deputy Minister, in an exclusive interaction with host of Peace FM's morning show 'Kokrokoo', Kwami Sefa-Kayi, was emphatic that "it is not government's policy to organise vacation classes for students. It is the parents' duty and responsibility and government is not going to take that away from them".

Describing the PRO's comment as 'a slip of tongue', Dr Adutwum believed the new system will offer students more instructional and contact hours with teachers.