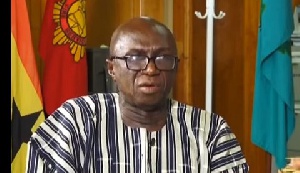 Government is committed to ensuring a smooth implementation of the Northern Scholarship programme alongside the implementation of the Free Senior High School (SHS) policy to make life easy for beneficiaries.
In this regard, the government has released a total amount of GHC 65 million for the Northern Scholarship Fund and an undisclosed amount for first term Capitation Grant.

Ambrose Dery, the Minister for Interior, said this while touring some SHS in the Upper West Region.

The tour was to acquaint himself with challenges associated with the implementation of the Free SHS policy that was launched by the President on September 12.

He said the release of the funding for the Northern Scholarship fund and the Capitation Grant demonstrated government's commitment to ensuring the smooth implementation of all other key policies in the education sector alongside the implementation of the Free SHS policy.

Ambrose Dery, who is also the Member of Parliament (MP) for the Nandom Constituency, visited the Wa SHS, Lawra SHS and the Nandom SHS where he interacted with the various headmasters and their staff as well as the students.

He said the President made a commitment to make Free SHS a reality to enable every Ghanaian child to have access to education regardless of his or her location and social status.
Ambrose Dery said leadership is about choices and that no country developed without developing its human resources and this is why the President chose to invest in the future of Ghanaian youth.

The Interior Minister said headmasters of the various schools have a key role to play in ensuring the success of the policy, hence his visit to find out some of the bottlenecks impeding the smooth implementation of the policy and how best government could help address the challenges.

Alhaji Ismail, Headmaster of Wa SHS, said the school admitted a total of 461 students and 231 have reported to school so far adding that feeding is the major challenge facing the school.

Simon Bonsodong, Headmaster of Lawra SHS, said 600 vacancies were declared and 595 were placed adding that 545 have been admitted so far.

He said lack of teachers' accommodation, textbooks, supplementary readers, exercise books, kitchen utensils and an assembly hall as some of the challenges confronting the school beside the issue of feeding.