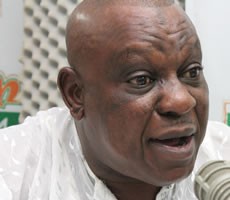 Editor of the Al-hajj newspaper and a member of the ruling National Democratic Congress (NDC), Alhaji Bature Iddrisu has stated that "no President since Ghana's independence can be compared to President John Mahama in terms of developmental projects apart from Dr. Kwame Nkrumah."
"No government can match the developmental projects undertaken by President Mahama especially in the Health and educational sectors which forms the main economic growth of a state. Not even former President Rawlings' government can match…it is only Osagyefo Dr Kwame Nkrumah… NPP should forget about winning this year's presidential elections and rather strive to win more votes in parliament," he said on UTV's Adekye Nsroma.

Alhaji Bature further explained, "It is in good context that leaders of the various religious groups would want to advise political leaders, but it has now become a norm for those leaders to speak against some political parties in their statements made based on the side they belong. These practices of theirs have demeaned the relevance of their message".

Also, "our narrow style of handling politics in this country has made members of parliament lost focus on their actual purpose of being voted for to occupy such a position".
He called on Members of Parliament to desist from politicising issues brought to the house for discussion or decisions to be taken because they are voted for by voters from different political parties to represent their constituency based on the credentials seen in them and not to be rejecting decisions of the majority because they belong to the minority.

Speaking on UTV's 'Adekye Nsroma' show, NPP's Deputy Communications Director, Mike Oquaye Jnr, a co-panelist stressed, "I am not shocked members of the NDC are now talking against religious leaders because they have diverted every statement they [religious leaders] make against themselves due to their bad economic set-up for the past eight [8] years".