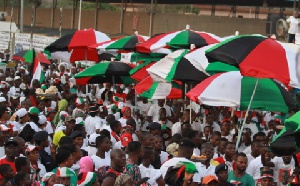 The Executive Committee of the opposition National Democratic Congress (NDC) in the Lawra constituency has suspended its secretary Philip Bagyo.
According to the party, Mr Bagyo was suspended for refusing to participate in campaigning for the party in the 2016 elections, rather choosing to campaign for the independent candidate, Samson Abu, which led to the defeat of the party's parliamentary candidate Bede A. Ziedeng in the parliamentary election.

"His conduct is anti-party and in breach of articles 45 and 46 of the NDC constitution," the executives said in a statement.

In place of Mr Bagyo, Mr Ignatious Ziem Meyir, who is the deputy constituency secretary, has been elevated to the position of substantive constituency secretary in accordance with article 49 of the NDC constitution.

The Deputy Constituency Youth Organiser, Sampson Botee, has also been removed from office and suspended from the party for campaigning on the platform of the independent candidate and also acting as his polling agent at the Kalsagri polling station on election day.

"His conduct is also anti-party and in complete breach of articles 45 and 46 of the NDC constitution," the statement noted adding: "On 1 November 2016, the General Secretary of the NDC, Mr Johnson Asiedu Nketia, dismissed from the party Hon. Samson Abu, Hajia Bintu Alhassan (the then Constituency Women's Organiser), Mr Peter Asibi Kayir (the then Constituency Communication Officer) in a press statement also for breaching articles 45 and 46 of the NDC constitution and we hereby confirm those sanctions."

These decisions were arrived at after the constituency executives had met on 14 December 2016 to review the performance of the party in the 2016 presidential and parliamentary elections.
In other decisions taken at the meeting:

"Madam Mary Zimaal has been appointed as the Constituency Women's Organiser to replace Hajia Bintu Alhassan whilst Madam Seraphina Banongwie has also been appointed Deputy Constituency Women's Organiser to replace the late Agnes Sorinye.

"Mr Yussif Zakaria has been appointed Deputy Constituency Youth Organiser in place of Mr Sampson Botee.

"Mr Michael Tangkur has been elevated from Deputy Communications Officer to Constituency Communications Officer whilst Mr Muazu Adams has been appointed Deputy Constituency Communications Officer.

"Mr Frederick Yirlabuor, Alhaji Baba Wawaa, Aloysious Daanoma, Clovis Saame, Nicholas Nangzie, and Faatol Dominic, have all been appointed as members of the Executive Committee of the party in accordance with article 49 of the NDC constitution."