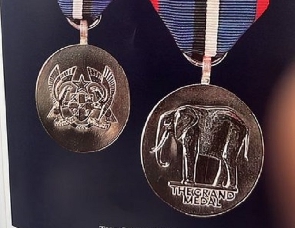 The Member of Parliament for South Dayi, Rockson-Nelson Dafeamekpor, has criticised the government over the type of medals given to COVID-19 heroes who were awarded by President Nana Addo Dankwa Akufo-Addo on Tuesday, March 14, 2023.
The MP was displeased by the fact the medal that was given to the COVID-19 heroes had symbols of the ruling New Patriotic Party (NPP) including a symbol of an elephant and the colours of the party.

In a series of tweets shared, on Tuesday, Dafeamekpor said that it is sad that what the government have reduced the national symbol of the country to.

"Today, this Govt has made the Elephant, the Political symbol of the NPP, our National Symbol so much that it sits on Medals being awarded at a State Event. Even Dr. Kwame Nkrumah didn't change our National Symbols to reflect the CPP Cockerel when he declared a 1 party state. Sad.

"Our famed and favourite National Colours of Red, Gold and Green with a Black Star to match have been discarded in favour of the NPP colours of Blue, Red, White and Black.

"We are being taught very harsh & bitter lessons in governance by this Prez and his Appointees," the MP wrote.
The tweet had a picture of the medal which had the Ghana Coat Of Arms on one side and the elephant symbol of the NPP on the other side.

The suspension ribbon of the medal also had the blue and red colour of the NPP.

View the MPs tweet below:


Today, this Govt has made the Elephant, the Political symbol of the Npp, our National Symbol so much that it sits on Medals being awarded at a State Event. Even Dr. Kwame Nkrumah didn't change our National Symbols to reflect the Cpp Cockrel when he declared a 1 party state. Sad pic.twitter.com/MLO1PhwjkM

— Rockson-Nelson Dafeamekpor, Esq. MP. (@etsedafeamekpor) March 14, 2023
Our famed and favourite National Colours of Red, Gold and Green with a Black Star to match have been discarded in favour of the Npp colors of Blue, Red, White and Black.

We are being taught very harsh & bitter lessons in governance by this Prez and his Appointees.

— Rockson-Nelson Dafeamekpor, Esq. MP. (@etsedafeamekpor) March 14, 2023
Watch the latest episode of The Lowdown below:
IB/OGB