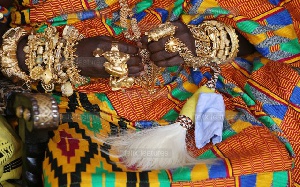 The Chief of Akyem Nyanoa in the Eastern Region, Baffour Arko Frimpong II has taken a swipe at the opposition New Patriotic Party (NPP) for asking questions over the ongoing massive infrastructure development under the John Mahama-led government.
The NPP has raised matters of value for money in the construction of infrastructure under the current administration saying "Infrastructural development under the Mahama-led NDC government has been characterized by massive corruption through contract overpricing, opaque and shady contracting processes, and gross abuse of the sole sourcing provisions of the Public Procurement Act, 2003 (Act 663)."

But the NDC has parried the allegation by the NPP with President John Mahama his government's investment in socio-economic infrastructure is an investment for the future well-being of the country.

He has said his administration should be applauded for investing massively in road networks across the country, building new hospitals, constructing new schools and expanding water systems, has been littered everywhere in the country, were there for all to see.
Addressing an NDC crowd at a mini rally at Nsawam Thursday, the Chief of Nyanoa, Bffour Arko Frimpong II who had apparently missed the President's visit to the Asamankese area on Tuesday stormed the rally and asked President Mahama to pay deaf ears to the nonconstructive criticisms from the opposition and remain focused on delivering his good works.

"When you are entering a house you look at how good the roads are, which gives that town some honour and respect. At that time you don't ask how much the per capita income of the country is, how much is the inflation rate and also how much the country's GDP is. We look at how good the town looks and it is praised. I'm encouraging President Mahama not to stop his infrastructure development agenda, Ghanaians are known to always criticize when there is such massive projects going on, same was done to Ghana's first President, Kwame Nkrumah, by the time the opposition realized, he had finished building the Akosombo Dam, Tema Motorway which continues to serve the country."