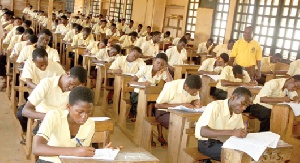 The over 30,000 Junior High students who could not qualify to enjoy the government's free Senior High School education are to be given a second chance to better their grades, President Nana Akufo-Addo has assured.
Addressing a mini-rally at Nandom on Tuesday as part of his tour of the Upper West Region, Nana Akufo-Addo explained the students could not benefit from the policy because they did not get the pass mark in their Basic Education Certificate Examination.

"The 36,000 who could not get a place were not prevented because of fees but because they could not make the qualifying mark," he explained.

President Nana Akufo-Addo President Akufo-Addo said in in order to ensure fairness, "we have decided that they should be given the opportunity to re-sit the exams so that they can join the stream to further [their] education".

Nana Akufo-Addo recalled how his campaign promises "were mocked at by my opponents" ahead of the 2016 December elections but said he has started fulfilling the said promises, saying "well the Free SHS has begun; it's begun well."

He observed that the free SHS education policy has this year significantly contributed to SHS enrollment in the country, indicating that 90,000 more students have entered senior high schools than they did last year.
'Yes, there're problems' but… The President for the first time admitted there are challenges facing the free SHS policy, which was rolled out in September this year, but has assured Ghanaians of his government's readiness to confront the problems head on.

"Yes there are problems, and there will be problems in anything when you start it. There are problems of infrastructure and facilities but if you don't begin, you'll never confront the challenges. You have to start and then as the challenges come you meet it," he said.

He added: "We've begun the free SHS, we're going to continue and we will deal with the challenges that are involved in it". President Akufo-Addo urged Ghanaians to support the policy to ensure that it works for the benefit of Ghanaian students.

Part of the policy, the president said, is to make sure that there is social justice and equity for which reason the 82 best senior high schools in Ghana are required to reserve 30 per cent of their admission places for people from less advantage schools in the country.

Source: http://3news.com/30000-failed-students-get-second-chance-enjoy-free-shs/