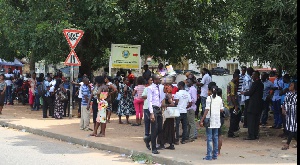 Scores of followers and sympathisers of Rev Isaac Owusu Bempah, the General Overseer of the Glorious Word Power Ministry International, on Wednesday October 26 gathered at the headquarters of the Criminal Investigations Department in Accra following the invitation of their pastor by the police in relation to some election prophecies he spoke about last week.
Rev Owusu Bempah had prophesied that some assailants in the Volta Region had planned to assassinate the flag bearer of the New Patriotic Party (NPP), Nana Addo Dankwa Akufo-Addo, when he visits the region to campaign ahead of this year's elections.

Last week, he told Accra100.5FM: "I have given several prophecies in the past that have come to pass. I prophesied that there was going to be a plane crash in Ghana, it came to pass. I prophesied that if care was not taken, we would lose our president (President Mills), it came to pass. I prophesied that Nana Akufo-Addo was going to be stoned at a campaign rally, it came to pass. God has revealed to me that some people are plotting to kill Nana Akufo-Addo. They are planning several ways of doing that. They have planned it in the Volta Region and so whenever he (Akufo-Addo) visits the region, they will want to kill him."

He added: "These are matters that must be dealt with spiritually not physically and, so, I don't know why they (the police) have invited me. They came to my church this week, but did not meet me and, so, they took my lawyer's contact from my junior pastors. The lawyer told them he had travelled and so when he returned he would come to the police station with me."
Following this prophecy, he was invited by the Ghana Police Service for questioning.

He appeared before the CID on Wednesday October 26 but as he was being questioned, several members of his church and others gathered at the premises of the CID headquarters in solidarity with the minister.

Some of the supporters who spoke to the media said they did not see the need for the invitation, hence their gathering.