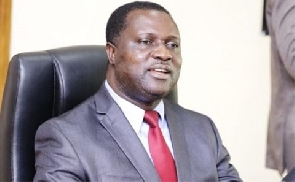 The Deputy Minister of Education, Dr Yaw Adutwum has said the governing New Patriotic Party (NPP) is not interested in enriching people at the expense of educating poor Ghanaian children.
His comments follow the proposal by the government to privatise public basic schools in the country.

Dr Adutwum, who was speaking at a stakeholders' meeting between Civil Society Organisations (CSOs) and some political parties in Accra on Wednesday, 27 November 2019, noted that the privatisation of public basic schools cannot be done if the focus is not on bridging the gap between the poor and the rich to offer the poor the same quality of education that the rich enjoy.

"You cannot do a PPP without thinking about bridging the gap between the rich and the poor, giving the poor the best opportunity to get the same quality education that the rich have so that you can eliminate poverty," he stated.

He explained that the aim of the PPP (Public-Private-Partnership) is to serve as a vehicle that will be a difference-maker to ensure quality education for rural and poor communities as those in urban areas.
"So, when you're doing PPP as the NPP is talking about, we're talking about how can we use a vehicle that will be a difference-maker, that will ensure that children in poor and rural communities will have the same education level as those from the rich neighbourhoods and towns and that is what PPP should be about," Dr Adutwum said.

He stressed further that the PPP will not enrich some people at the expense of poor children.

"PPP should never be about making somebody rich, making somebody rich in Ghana so that the children who are poor will stay in poverty, I don't think the New Patriotic Party will ever go on that tangent. We're not about making people rich at the expense of poor children who are crying every day for help, poor parents who are struggling and you want to make their situation worse. I don't think any political party will want to bridge the gap between the rich and poor by introducing a kind of education system that gives advantage to the already advantaged rich in this country."