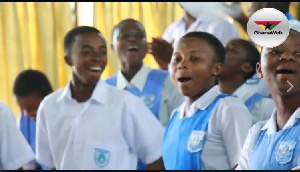 Parents whose wards were placed at Kwame Nkrumah University Of Science and Technology Senior High School (TECH SEC), in Kumasi have spat red at authorities of the school over what they call "extortion."
Headmistress of the school is allegedly charging an amount of Ghc 518 from students as termly hostel fee for her own private house near the school.

Parents say they cannot afford the facility which is being being offered by the headmistress.

Speaking with Abusua Fm's Wofa Atta Frimpong, the parents said, Ghc 518 every term as hostel fee is outrageous.

Authorities of the school say they cannot accommodate all male students placed at the school, hence the decision to refer a majority of them to a hostel facility which is just behind the walls of the school.

Wofa Atta Frimpong confirms, the said hostel facility belongs to the headmistress of the school.
A printed sheet with the inscription "HOSTEL FACILITY" with telephone contacts have been posted at the school's notice board alongside names of students placed at the school for parents to call for accommodation.

He reports, teachers from the school have been selected by the headmistress to manage the hostel facility rented out to only male students.

The Headmistress, Joyce Owusu Ansah in an interview with Wofa Atta Frimpong however contradicted the earlier claims that there no space for boarding students.

Mrs. Owusu Ansah the school has no challenges and has the capacity to accommodate all students placed at the school.