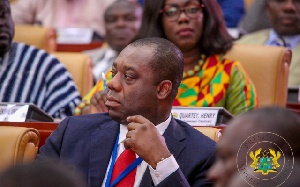 The ranking member of the Education Committee of Parliament, Peter Nortsu, has disclosed government sidestepped the committee in formulating modalities for the implementation of its much touted free SHS policy.
His comments come days after the Minister of education, Mathew Opoku-Prempeh outlined the master plan for the policy last week.

Announcing the plans for the implementation of the programme, the education Minister said it will be enjoyed by only students who pass their Basic Education Certificate Examination (BECE). Also, he stated that the programme which will cost the government over GHc 400 million per academic year is eligible to only Ghanaians.

He noted further that the qualified students must also be placed under the current Computerized School Placement System (CSSPS).

Dr. Opoku-Prempeh stressed the government is fully funding the entire programme which means "there will be no admission fees, no library fees, no science centre fees, no computer lab fees, no examination fees, no utility fees; there will be free textbooks, free boarding and free meals, and day students will get a meal at school for free."
He added: "No student will be driven out of school for non-payment of Parent Teacher Association (PTA) dues; it is a voluntary organization."

Commenting on the modalities, Mr. Nortsu said government's failure to engage the education committee during the formulation of the implementation plans for the policy could mar the efficacy of the policy roll out.

"As a matter of fact, the education committee was not involved in any discussion prior to the announcement or the media meeting by the Minister of education," he told Accra-based Radio XYZ.

"I have even filed a question which the Speaker admitted for the Minister to appear before the House to explain to us or give us the content of the free SHS. As we are speaking today he has not responded to the question and I don't know when he will respond because it has not been programmed for this week," he added.