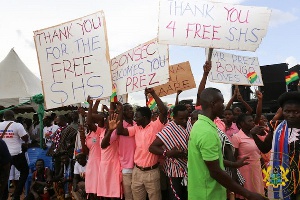 Wed, 16 Oct 2019 Source: Collins Aikins Akuffo
The President for the Republic of Ghana, Nana Addo Danquah Akufo-Addo has made a passionate appeal to the free SHS students who will be writing their Exams come next year June to do everything possible to produce results that are going to shame the critics of the free SHS policy. Since free Senior High School (SHS) policy has come to stay.
"You know that there are powerful political elements in this country who don't like the SHS policy, they went out of their ways to find all kinds of necklets to stigmatize and condemn it. To them, the policy is political gaming, when it became a reality it cannot work, when it became a reality it was too expensive trying to punch a hole on the policy. They further went round attributing it to lack of classroom blocks, furniture among others." President noted

"They did everything in order to kill the free SHS policy by we are doing it and achieving positive feedback".

The President emphasized that, the most effective answer to all these critics and negative reactionary forces is that they want the SHS back, instead of going forward will depend on your performance for the next year's results.

Reacting to the request made by the headmaster of the Koforidua Senior Technical School (SECTECH), the President assured all SHS present that the education Ministry is going to ensure by fast tracking the procurement process of furniture, completion of dormitory block, the renovation of science labourities and the construction of three thousand five hundred (3,500) seater Assembly hall.
According to him, GetFund for the completion of dormitories across the country is ongoing and tasked the Education Minister to ensure that schools within Koforidua in the Eastern Region also benefit from the national cake.

"All what we are saying is that countries that will succeed in the 21st century are the countries that takes the acquisition of knowledge and technology seriously and that is why my government is investing much in education, particularly free SHS policy" he noted.

The President said for us in government, we want the acquisition of knowledge to be widespread in the country so that every deserving young boys or girls will get the knowledge that will be needed for in the 21st century.

According to the President, Koforidua SECTECH has been choosing as the center for Science, Technological, Engineering, and Mathematical (STEM) education that sought to brood the horizon of the young ones in the future. STEM has been agreed upon by all strategic thinkers of education to use it as a central point that will develop Ghana's economy.
Source: Collins Aikins Akuffo