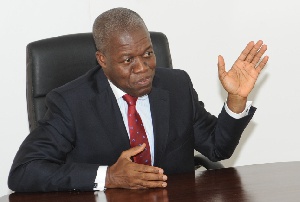 Vice president Kwesi Amissah-Arthur has said the 2016 election is all about the unmatched record of the National Democratic Congress (NDC) hence the politics of insults must cease.
Mr. Amissah-Arthur has also appealed to politicians to campaign on issues because he does not believe in "politics of confrontation".

He said elections are about development and the choices available to the people in the pursuit of progress. He has therefore called on political parties to see the upcoming polls as an opportunity for them to sell their messages to the electorate, adding the ruling NDC has superior record of accomplishment.

Mr. Amissah-Arthur said this at the Peace Festival 2016 and thanksgiving and prayers for Ghana by the Musama Disco Christo Church at Gomoa Eshiem in the Gomoa West constituency of the Central region.

He urged Ghanaians, especially Christians to promote and spread peace during and after the forthcoming general election, saying Ghana must always be put ahead of other interests.
He stated elections were about development and the choices available to the citizenry, adding that no development could take place without peace, for which reason there was the need for all to uphold the peace going into the crucial elections.

He used the occasion to congratulate the church for the success it has chalked so far in the country and urged them to continue with the work of God. He expressed the hope that Ghanaians will live a life of peace during and after the elections.

Mr. Amissah-Arthur called on the church and Christians to continue to pray for the country as it continues to grow in the face of challenges. He said the church has played a crucial role in bringing about harmony among Ghanaians.

He promised to contribute to the late H.Q Jehu Appiah Memorial Library Project named after the former Deputy Central Regional Minister as a testimony of his good works and his love for education.