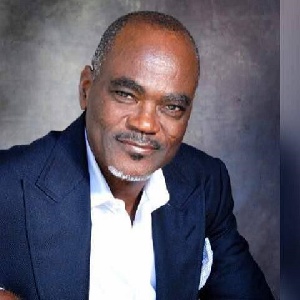 Words have always been said to be powerful as they cause different emotions in people.
The timing, crafting and delivery of speeches could determine the response that greets it. The response could be anger or humour.

2019 has been a trying year for Ghana sports but throughout the twelve months some sports personalities passed remarks that either earned commendations or condemnations.

GhanaWeb takes a look at famous quotes by ten sports personalities in the year.

Dogboe's comment on Emmanuel Navarette

""Most definitely, that's what the weight division needs. It needs to be explosive; it needs to be on fire." When I captured the world title, I made a promise to myself and to the fans that look I am going to make this division exciting and that is what happened".

"My handlers around me said to me just push it. Just do what you can do but 122 no more... It will be great to face him again in the upper weights. 126, 130, right now we are here with Freddie (Roach) and Freddie wants to make sure that I am in the best weight category.

"Look at me, I have filled up already. So, we coming up 126, 130. Navarrete, I know you are a warrior all the best in your next fight coming up and I know we are going to meet again, we are going to meet again.
Nyantakyi not my friend

"A friend is someone you constantly visit, share ideas, both families have some level of ties, to call someone a friend is so deep, but for me he was my boss and we enjoyed a very good working relationship, that is how I want to put it. Because the one I call my friend the minimum times I visit his house in a year is not less than 10 times, but for Mr. Nyantakyi throughout my association with him when I knew him in 2003, 2004, I have been to his house a maximum of 4 times. The truth is, I will die for anything I believe in. At the time Kwesi Nyantakyi came into power, at the time I saw his vision, zeal, vim and everything, I was ready to do anything, no doubt about that. It was about his vision. He was a good listener at that time.

"'It is normal with every leader; it gets to a point where you become too corrupted with power because the last days of Mr. Kwesi Nyantakyi I feel so sorry because you could see it coming. I wouldn't want to say things about a man who won't be here to defend himself, but the truth is that circumstances leading to my removal as GFA Vice-President is clear and out there for everyone to see, these are so fresh in the minds of a lot of people in the country."

Gyan on Dede Ayew accepting captaincy

"It was the decision of the coach but I was expecting Andre Ayew to reject his appointment as the Black Stars coach. He is a human so he welcomed the decision but why would you accept a position that is full of controversies? I have nothing against Andre Ayew. We are cool but I was expecting him to reject the decision of the coach," he added.



Wakaso's post AFCON comments
"I can't even describe how we are feeling but the only thing I have is I need to thank my colleagues the whole time for their support. It's part of the game. I think we need to think about our future - that's the only thing we can do.

"My reason [for being so emotional and weeping in the press conference] was that I thought this tournament was for us due to the hard work we've been putting in every match. That is the reason why I'm like this right now but still we have a future so we need to think ahead."



Randy Abbey's speech at Extraordinary Congress

There are decisions that if approved because there are aspects that deal with the Executive Council or the board like issues of elections, those are not things that can be resolved by the new GFA administration after the Normalization Committee has left office. It is not correct that we can just take it and then when things are normal, we can change. They are things that we cannot change unless after four years. There is a proposal for amendment, it has been moved and seconded.

"Madam Odofoley averted our minds to the provisions of the company's code. Which clearly says as a company of guarantee you cannot have a board of more than 12 people. So sometimes we also need to situate our submissions in this context. On the issue of the composition of the Executive Council, it is ten today. We cannot talk about today, play the ostrich like the 16 could not be a reality. It could not be a reality today but it could be a reality in six months. It could be a reality in one year.

When it happens that every region must be on the board, every region must have three representatives at Congress. What it means is that any point in time when any football association in the region becomes effective, they will have to have a place on the board and have three places at Congress. The absurdity of it is that when you eventually get sixteen RFA's, you are going to have sixteen coming on the Executive Council which is against the laws. Because the law says you can have maximum 12 so can you have a situation where you are not in control of composition and size of your board. So anytime the political establishment takes a decision, your board must also expand. So tomorrow if the political establishment decides that we must have twenty regions in Ghana, your council must expand to four more. We can't have that kind of situation.
Alhaji Grunsah's goro boys comments

"The last speaker I want to ask him, his accreditation here. Is he a club member or RFA. He's an RFA member. The goro boys of Ghana football are the RFA's. The RFA, they killed all that he said. No colts in any region in Ghana here.

I don't fear delegates – George Afriyie

"This election, 'awoof' apae. It will be very easy. I don't fear delegates, I trust them. I'm part of the old stock. I know what we went through, and where we want to go. Vote for George Afriyie, the number two on the ballot for the redemption and revival of our football. It is important to display some level of transparency to get public confidence back".



Kurt Okraku's victory speech

" I am really humbled for this amazing opportunity you people have offered me to serve Ghana football. This victory is a win for Ghana football and we have shown to the world that we have quality to run our football.
" In celebrating this success story, it is time for us to work and forget about our bad feelings and forget our struggles and fight and look into the future with hope to build a new GFA that would build products that all stakeholders would be proud of.

" Let's stay together, football is a team work and I cannot do it alone and it's time to ignite passion and create wealth for our footballers, coaches, clubs, among other stakeholders.



Kofi Amoah's parting words

"I am elated that a problem arose in my country, and I was called to help solve it. I feel proud. Before accepting something like that, you must commit yourself, and we committed ourselves. The bottom line is that one we took such a matter of national and international interest, we committed ourselves. I'm very happy and proud for the opportunity to do the work".

"With better organization, clear responsibilities and improved compensation, they will and can deliver for the next administration. Let's respect one another and with our hearts full of love and malice towards no one. Let the actions of our past misdeeds conjure a new beginning".