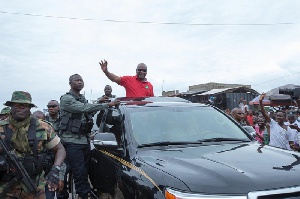 The Zongo Chief of Obuasi in the Ashanti region Alhaji jibrili Kalanga has in a trail of appellations hailed President John Dramani Mahama as a wonder president that Ghanaians will ever be grateful to.
The chief made the statements Saturday in a mini rally held in the Obuasi West constituency when the president visited on his four-day tour of the Ashanti region.

The Zongo Chief likened the president's investments in infrastructural projects which he described as unprecedented to a "farmer applying fertilizer to his farm."

Alhaji jibrili Kalanga who spoke in a northern dialect and intermittently interpreted into Twi by his linguist pointed to the Community Day Senior High Schools, Hospitals, the Obuasi Stadium and other road projects embarked on by the president as basis for his assertion.
The chief probably nailed the coffin when he hailed President Mahama the next after Dr. Kwame Nkrumah among all presidents to have led the country.

"You have done very well and I can say you come next after Dr. Osaegyefo Kwame Nkrumah. You have littered the country with several infrastructural developments as if you are applying fertilizer to a farm", he praised.