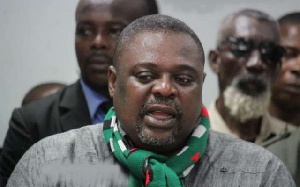 The Deputy General Secretary for the opposition National Democratic Congress (NDC), Koku Anyidoho has slated President Nana Akufo-Addo for "acting unconstitutionally'' few weeks after he was sworn in as president.
He also expressed his disappointment in the Ghana Bar Association (GBA), Civil Society Organizations and some individuals who were fierce critics of former president Mahama for remaining quiet over Nana Addo's unconstitutionality. The deputy scribe of the NDC speaking in an interview with Kwame Tutu on Rainbow Radio 87.5Fm said, he is extremely shocked that people are refusing to chide Nana Addo over some of his appointments which he noted are unconstitutional.

He said, when the NDC is in power, you will hear all kinds of civil society groups talking about winner takes all. They will say winner takes all is bad and so let's do something about it, but immediately NPP is in power, those groupings never mention winner takes all again. They are very comfortable when NPP takes everything.

Koku Anyidoho indicated further that, critics of the NDC who have decided to remain mute after the NPP took office, should not change their analysis and see others as fools.
"We maybe be in opposition but we are not fools…I will continue to mention names and call on the vociferous and outspoken individuals who lambasted the NDC to also lambast the NPP government if they go wrong," he added.

He descended again on President Nana Addo for inaugurating a 30 member committee towards the Ghana@60 celebration. According to him, it defeats Nana Addo's decision to protect the public purse. Koku said, someone who claims to protect our purse has inaugurated a 30-member committee for Ghana@60? Did he not say the economy is more poorer than anticipated?''

One other issue Koku Anyidoho complained bitterly over was Ken Ofori Atta's response to the DKM saga where he said, the payment for affected victims as promised by Nana Addo, was not captured in the NPP's manifesto.